In particular, Sleeping Beauty Turquoise is from just outside of Globe, Arizona. Surprisingly, the mine name comes from the outline of the mountain range. Namely, the outline of the mountain looks like a woman laying on her back!
---
To put it another way, this turquoise is a beautiful sky blue! In general, this turquoise starts off with a white or tan matrix. Markedly, the mine owners explain the appearance of the turquoise. To clarify, black media mixes with the turquoise, via a cement mixer. The black attaches itself to where the white and tan matrix occurs. Another key point is that any pieces which are lacking any matrix, goes directly over seas. It must be remembered, the American public like the black contrast. 
---
Most notably, we have among the last marketed Sleeping Beauty Turquoise nuggets. Most importantly, they come direct from the miners of the Sleeping Beauty Mine Turquoise in Globe, Arizona.  
First of all, the mine is now CLOSED and there is NO new Sleeping Beauty Turquoise available. Consequently, the mine last produces turquoise in 2012.

Equally important, the nugget in the picture is representative of the nuggets we have in stock.

As a matter of fact, each nugget is different, as it comes "straight from the mine."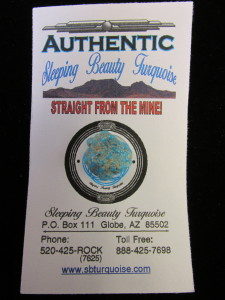 Sleeping Beauty Nuggets on cards, direct from the mine owners.
Above all, the Sleeping Beauty Mine has

closed.

In summery, they are only $25.00 per card.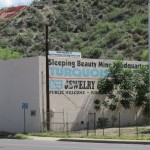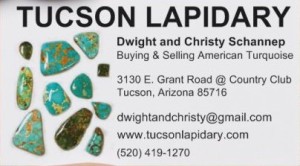 Tucson Lapidary 1990 – 2023 © Schannep Ventures L.L.C. ALL RIGHTS RESERVED